Knowledge and experience
We have long experience in the heating and cooling sector.
We have implemented our systems in detached houses, multi-family houses, service buildings, hotels, and industrial facilities. We provide any and all information and consulting related to the construction and operation of heat pumps free of charge. Owing to our rich experience in the sector, we can answer each and every question.
Solid warranty
We provide the 2-year warranty on all our products.
We provide the 2-year warranty on all our products. Our servicemen hold refrigeration engineering qualifications and long professional experience in operating high-pressure systems and industrial automatic control systems. If the repair of a device is not possible, we replace every system with a new one.
Safety and reliability
Heat pumps do not require the installation of chimneys, gas connections or gas and oil tanks.
Heat pumps are among the safest heating devices used in residential facilities. The life of heat pumps is estimated at about 30-40 years.
F

ree electricity at your home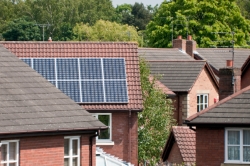 Owing to the use of even the simplest photovoltaic cells, every home owner may reduce electricity costs even by 100%.
By installing polycrystalline or more efficient monocrystalline cells, you will become completely energy independent.
There are two possibilities of connecting with a home electricity network:

With an inverter and a system of batteries that store electricity
With an inverter and a connection with the power grid and an additional return meter
(the operator deducts kW produced by the cells from an electricity bill at a rate according to the law on renewable energy sources from 2012 at 1.30 PLN per kWh.)

The rules are similar to the ones in 'heating your home for free'.