Knowledge and experience
We have long experience in the heating and cooling sector.
We have implemented our systems in detached houses, multi-family houses, service buildings, hotels, and industrial facilities. We provide any and all information and consulting related to the construction and operation of heat pumps free of charge. Owing to our rich experience in the sector, we can answer each and every question.
Solid warranty
We provide the 2-year warranty on all our products.
We provide the 2-year warranty on all our products. Our servicemen hold refrigeration engineering qualifications and long professional experience in operating high-pressure systems and industrial automatic control systems. If the repair of a device is not possible, we replace every system with a new one.
Safety and reliability
Heat pumps do not require the installation of chimneys, gas connections or gas and oil tanks.
Heat pumps are among the safest heating devices used in residential facilities. The life of heat pumps is estimated at about 30-40 years.
T

he surcharge on solar collectors only 45%!!!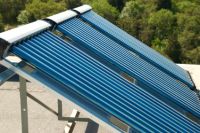 The quantity of energy sources is limited. In the time of still rising thermal energy production costs, it becomes necessary to find renewable energy sources.
The Sun is the largest source of unlimited, free, and ecological energy. Therefore, the systems of solar heating with vacuum and flat collectors are becoming so popular. A solar system can operate service-free for many years. They are used to produce hot water and to support floor, wall and radiator heating.
Renewable solar energy contributes to higher savings. It is also important that solar systems may be used to reduce the operating costs of heat pumps by reducing current consumption.
W

hat do solar panels look like?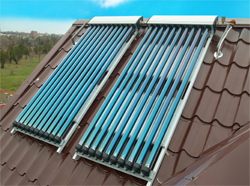 W

hat do solar panels for electricity production look like?