E

XT EVI-N high temperature air-water heat pumps

EXT EVI-N high temperature air-water heat pumps generate heat even at -30C and are capable of heating water to +58C!!
They usually operate in places where ordinary air pumps are not sufficient. They may be basic and sole heating devices for central heating and hot service water in buildings of very good insulation.
They are particularly recommended for modernizations of older heating systems based on high-temperature radiators and may also replace oil, coal, and gas boilers.
EXT EVI-N model is the state-of-the-art air-water heat pump, i.e. so-called 'no ground interference' device based on the excellent industrial compressor Hitachi EVI Scroll, R410A gas medium and the latest unique gas system. An extra plate EVI heat exchanger and two independent electronically controlled expansion valves make this structure complete. The unit is characterised by 30% higher heating efficiency at extreme negative temperatures and up to 40% higher efficiency compared to ordinary air pumps.
EVI-N models are available in the following range of powers:

EXT8EVI-N/ 8KW
EXT10EVI-N/ 10KW
EXT12EVI-N/ 12KW
EXT14EVI-N/ 14KW
EXT20EVI-N/ 20KW
EXT26EVI-N/ 26KW

Every unit is fitted with SCROLL type compressors with EVI system of so-called two-step gas compression (Hitachi or Daikin), plate heat exchangers (SWEP AISIN 316) made of stainless steel, electronic expansion valves, Emerson filters, LCD automatic control systems and controllers with a user-friendly programmable interface.
The housing has been soundproofed with sound absorbing material; therefore, Exotherm heat pumps are characterised by quiet operation.
SCROLL compressors are mounted on special shock absorbers that minimise vibrations and provide complete user comfort.
The applied controllers give an option to combine the automatic controls of the device with the Internet; owing to this solution, an owner and the headquarters of the firm may check the correct operation of the system and forecast and detect any irregularities in operation even at long distances, which is very convenient, particularly during a warranty period.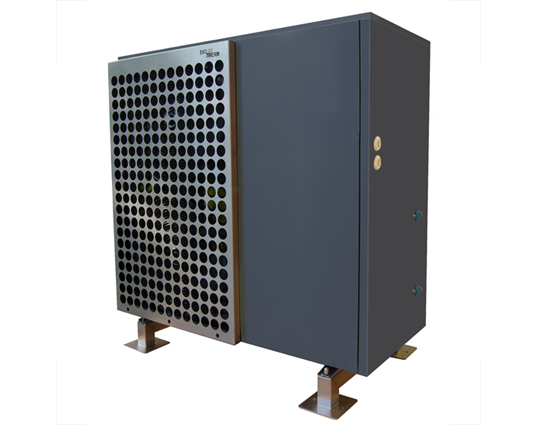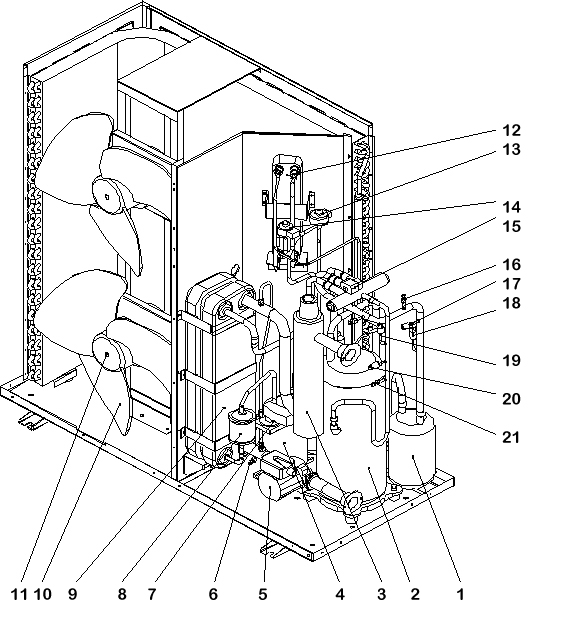 1 - Gas and humidity separator
2 - Hitachi EVI Scroll compressor
3 - Electric heater 3.9kW
4 - Gas accumulator
5 - Water pump Wilo 25/7 (optional)
6 - Draining valve
7 - Pressure differential flow sensor
8 - Emerson gas filter
9 - SWEP plate heat exchanger
10 - Fan blades
11 - Fan motor
12 - EVI heat exchanger
13 - Electronic expansion valve
14 - EVI electronic expansion valve EVI
15 - 4-way gas valve
16 - Service connection – low pressure
17 - Electronic low pressure barostat
18 - Low pressure barostat
19 - High pressure barostat
20 - Electronic high pressure sensor
21 - Service connection – high pressure
Siemens and Carel controllers applied in Exotherm pumps offer a range of central heating temperature controls with:
Each and every Exotherm heat pump comes with the so-called hot service water priority.
In order to provide the safety of the electrical and gas system operation, the following are applied: